Fengmi Dice Projector Supports Google Assistant And Upgrades to Android 9.0
Fengmi is one of the many companies to navigate the Xiaomi ecosystem. The brand signs machines under its name and others under the Chinese brand according to the various contracts it signs. Most of the time, however, its machines are intended only for its domestic market and therefore do not come out in international version. Fengmi is the manufacturer of Xiaomi's best known laser projectors.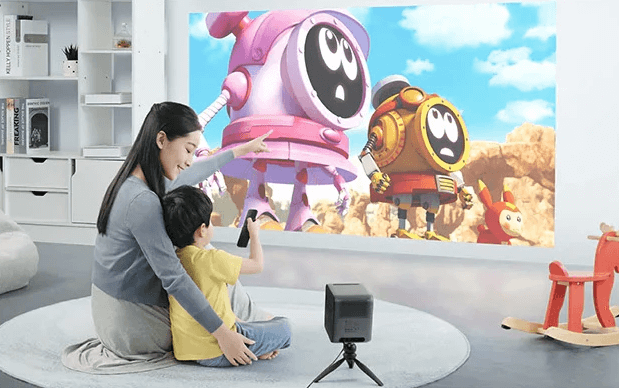 The Fengmi Dice ( The Chinese version is named Fengmi M055DCN ) is a very complete FullHD video projector present on the Chinese market for some time. It was possible to acquire it in import and enjoy a beautiful image in FullHD but … you had to juggle menus and instructions only in Chinese. Another concern, the only software tools available, even if the device was running Android, were related to the habits of Chinese users without access to the Play Store. The object was running with an adapted version of MIUI the Android software overlay from Xiaomi.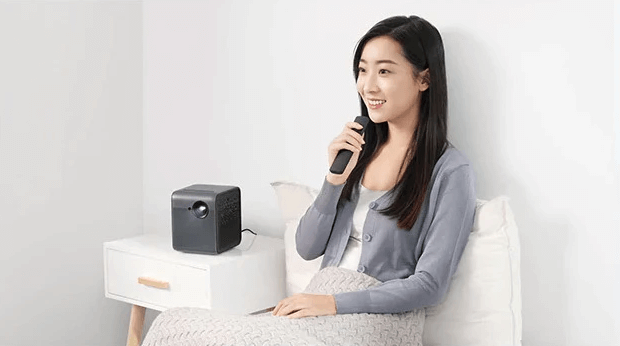 The new version of the Fengmi Dice changes the game with the integration of a complete Android TV 9.0, internationalized and compatible with the Google application store. The user will therefore be able to download his preferred language and then launch his applications. Important downside, it is not certain that the machine is compatible with all local applications on the market. The DRM management of the solution is not yet detailed. By cons it will be possible to use it as a classic Chromecast solution.
The Fengmi Dice is equipped with a specialized Amlogic T968-H SoC, 2 GB of RAM and 16 GB of storage via an eMMC 5.0 module. These components allow it to support high-end video and audio content. If the Amlogic brand is best known for its S9xx chips integrated into TV-Boxes, it also offers T9xx solutions which are intended for televisions and video projectors. We find here four cores Cortex-A53 at 1.8 GHz and a Mali-T830MP2 video chipset. This solution supports UltraHD streams at 60 frames per second in H.265 10-bit, H.264 and AVS +. HDR10 support is complete and the SoC knows how to manage HDMI 2.0 formats and offers management of Dolby Digital, Dolby Digital Plus and DTS Digital Surround formats among others.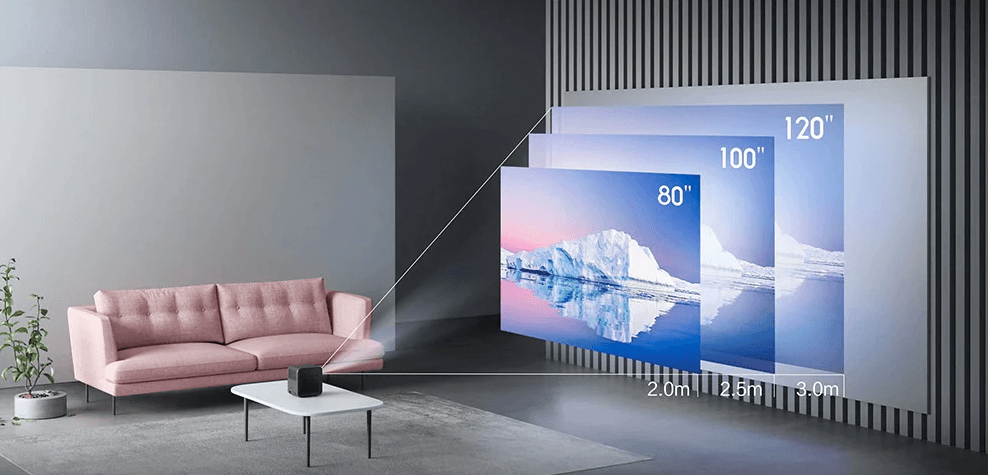 Equipped with a FullHD DLP system, the machine will therefore be able to collect upstream UltraHD files which it will display in FullHD on an optimal diagonal of 120 inch maximum. The announced brightness is 550 ANSI Lumens with a contrast of 1000: 1. The strong point of the Fengmi Dice, its focusing and its trapezoidal correction are managed automatically by the machine with 45 degrees horizontally and vertically. It is therefore sufficient to place the device on a support facing a screen or a wall to obtain a correct image.
This is what made the success of this object on the market today. The ability to store it easily and deploy it facing a wall in seconds to watch a movie.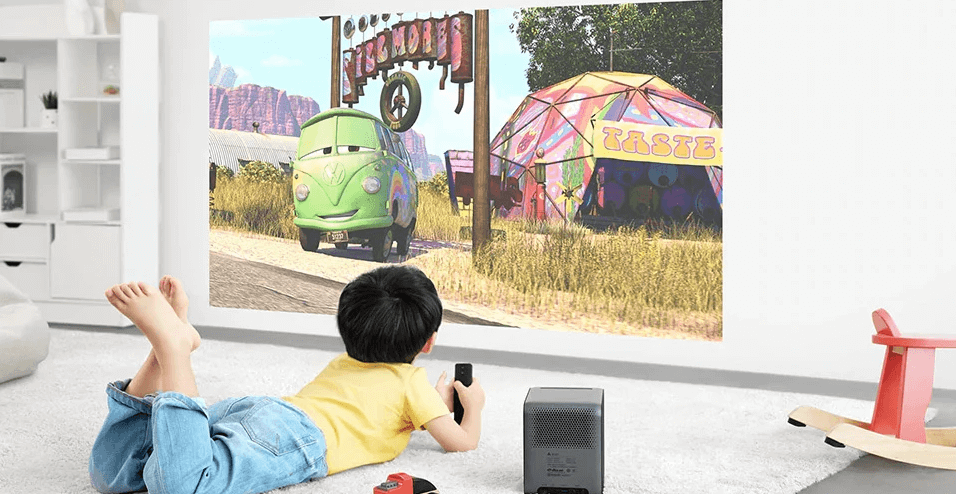 The sound part is not to be outdone and contributes to the practical side of the machine with an integrated audio system both Dolby Audio and DTS HD. The video projector offers classic connectivity with an HDMI 2.0 input, a 3.5 mm stereo audio headphone output and a USB 3.0 socket that can read files stored on a USB key. Finally, the machine has a classic Wifi5 module on two bands as well as a Bluetooth module. A remote control in this format will also be available, with a microphone allowing you to control Android TV by voice.