Fiido X Lite Electric Bike
The long-awaited debut of the Fiido X e-bike is approaching and will be launched on Indiegogo on July 13. Unveiled some technical features and the presence of a Lite variant. Super early birds will be able to purchase the Fiido X and Fiido X Lite for $899 and $1099 respectively.
As we anticipated a few days ago, the debut of the Fiido X on Indiegogo is now near, an innovative electric bicycle that is preparing to beat the competition with extraordinary features and a very affordable price. If you want to make it your own at an even lower price, all you have to do is mark July 13 on your calendar and be among the first to fund the crowdfunding project. Fiido has in fact decided to reserve for super early bird a very attractive discount for a folding electric bicycle that the company itself has defined revolutionary.
With an ultra-light magnesium alloy frame (only 3kg), the Fiido X sports a simple and elegant design, enhanced by the now iconic teal coloring that we already appreciated on the Fiido D11. As a demonstration of the company's great capabilities in terms of research and development, a binary power system has been adopted, with a 417.6Wh lithium battery integrated into the seatpost and cables almost completely hidden inside the frame. A set of cutting-edge torque sensors can detect the will of the rider to assist him during pedaling and the 40N/m motor will not hesitate even on uphill routes. According to the manufacturer's statement, in electric mode you'll be able to cover 130km and reach a top speed of 25km/h, although a full recharge will require about 7h of power. The transmission system consists of a 7-speed Shimano gearbox that will let you tackle any type of route without difficulty.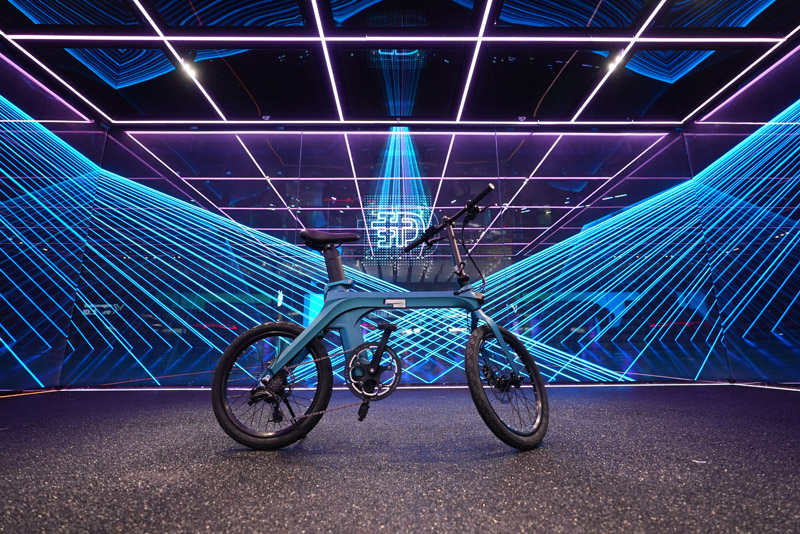 The Fiido X is fitted with 20″ tires, which represent the right compromise between portability and a comfortable ride, and can be folded up to occupy a volume of just 0.2m³, the perfect size for the trunk of almost any car. Another highlight of the Fiido X is the use of a keyless security system, consisting of an anti-theft device and a numerical code lock. Over the next year, Fiido will also launch its proprietary app to connect to the vehicle with a smartphone and remotely monitor it in real time. In addition, through this app, Fiido users around the world will be able to share their experience online.
Last year, Fiido D11 had raised $1 million on Indiegogo and the huge improvements made on the new X model make us think that this record can be easily broken. Fiido X will officially debut on the well-known crowdfunding platform on July 13 and will do so in two versions: standard and Lite. Although the list price of the standard variant is 1999$, the first users who pre-order during the initial stages of the campaign will be able to take advantage of special discounts:
Fiido X will be available for $1399 for early birds and $1099 for super early birds.
Fiido X Lite will be available for $1099 for early birds and $899 for super early birds.