FLJ T113 Electric Scooter With 60V 3200W Dual Motor
For a price tag of around two grands, the FLJ T113 looks like it belongs to the same category as a scooter that costs 50% more. You can immediately tell apart a FLJ T113 from most other scooters. The chromed bolts that hold the body pieces together make a beautiful contrast with the black matte full metal body. The robust suspension springs on both wheels suggest that the T113 will give you a comfortable ride no matter how far you drive. The customizable led strips give it that final touch it needs to look modern.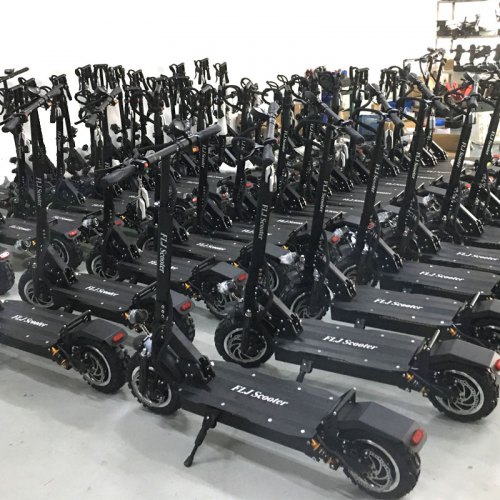 The T113 looks more angular compared to the DualTron Ultra/Thunder scooters, yet not as basic as a Works Electric's BR2. In fact, its body somehow reminds me of a Lamborghini – both by the shape and by the sturdiness of its parts. If looks matter to you, you can never go wrong with the T113, unless you are after a more playful or informal style.
Now that the battery is charged, it's time to test the FLJ T113 out. For the past few months I have been driving the Xiaomi M365 Pro a lot, mostly because I was going to the metro station and back every day, and the lightweight Xiaomi is very easy to carry. No wonder why I've got a bit anxious when I've got to drive a scooter that can reach a top speed of 70-80 KM/h (43-49 mph).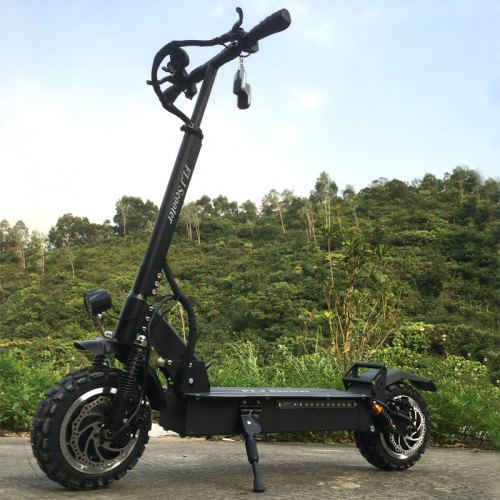 Luckily for me, the thumb throttle is very responsive and I was able to have a smooth start right from the beginning. Usually, cheaper throttles and engines tend to go from zero to a lot of RPM in a split second, making you lose balance if you are not experienced enough. The FLJ is easy for beginners and I would definitely recommend it to anyone, no matter their previous scooter driving experience.
Thanks to the 11 inch wheels, the scooter holds very well to the road. It is way more stable and responsive than one with 10 in wheels, especially if you use road tires. Steering was not a problem even at higher speeds and the brakes work as expected too.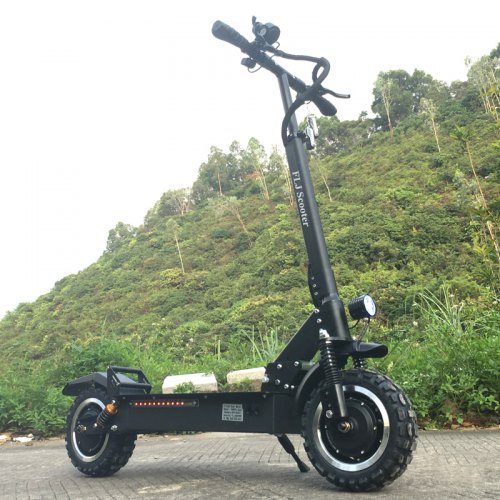 The FLJ T113 is comfortable to drive. It's heavy enough to be easy to drive on high speeds and light enough to have good maneuverability. The spring suspension smooths most little obstacles (such as stones, cracks in the asphalt) out. Combine that with huge 11 inch wheels and you get a pretty smooth ride. For a scooter, that is.
As its name suggests, this scooter is meant to be an off-road beast. Both the official website and the vendors showcase a lot of photos of this scooter being partially submerged under water, suggesting that there's no problem if you drive it on the beach or under heavy raid.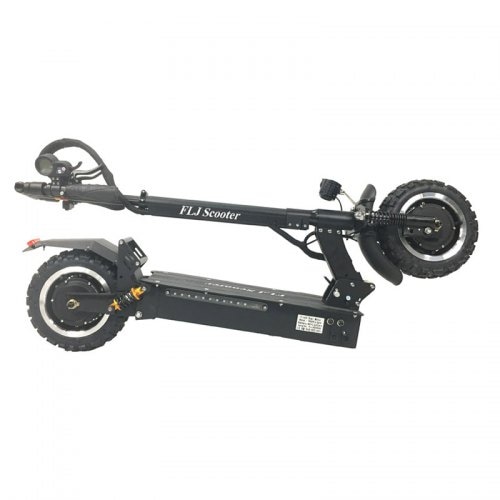 While those claims are not a lie, I would still like to mention that this bad boy has got its limitations. A scooter is a scooter no matter how good it is. Say, no suspension can make a pair of 11 inch wheels feel as smooth as a pair of 29 inch bicycle ones.