iFlight Green Hornet 3 inch CineWhoop 4S FPV Racing RC Drone
Does this Green Hornet sound familiar to you? This is normal, it is based on the same structure as the BumbleBee ( see here ). It is a Cinewhoop, with a carbon structure whose arms measure 2 mm thick, with a diagonal from motor to motor of 14.2 cm. The propellers, 3 inch 3045 three-bladed, are protected by ducts and covered with foam which acts as a bumper in the event of a touch with an obstacle. Laurent Athénol, from Frame-Concept , is however not mentioned as inspiration for this model.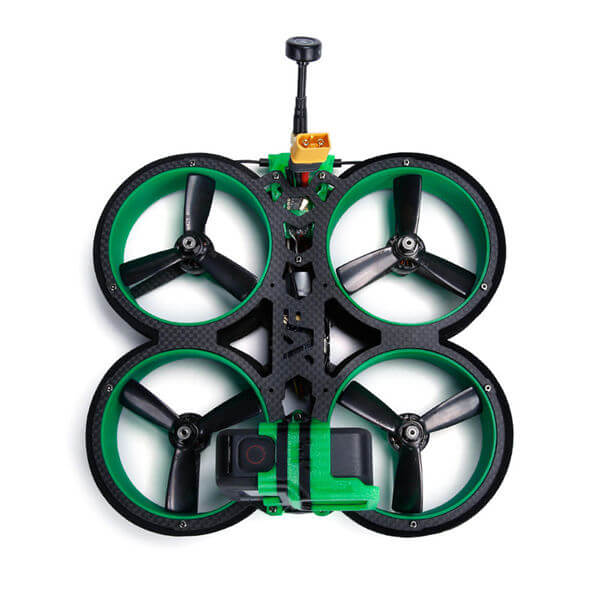 The propellers are driven by Xing 1408 to 3600KV brushless motors. The electronics are a tower made up of a SucceX-E Mini flight controller based on an F4 processor, associated with an ESC 4 in 1 of 35A BLheli32. The video feedback is based on a RunCam Nano 2 camera and a 5.8 GHz video transmitter capable of transmitting from 25 mW (the maximum authorized in France) to 500 mW. A GoPro camera mount comes with the device. IFlight offers a version without radio receiver, or an XM + or R-XSR receiver from FrSky, or a Crossfire Nano from TBS.
The Green Hornet is a light version of the BumbleBee, less powerful, and intended to be powered with a 4S battery from 850 to 1300 mAh. It is also lighter, with 260 grams on the scale (excluding battery). It is quite naturally cheaper, since the Banggood shop displays it from $179.00.