Ortur Aufero CNC Engraver
The laser engraver does not belong in the hands of children and must be set up and used safely. Especially the odour development which is burned depending on the material is not without. The results speak for themselves.
Almost anyone can now print 3D, but what about engraving? The Ortur Aufero CNC Engraver is available on Gearbest.com for $457.18 and can engrave wood, bamboo, plastic, leather, aluminum and other materials by laser in addition to paper. The 15 watts are also enough to cut paper, veneer and plastic.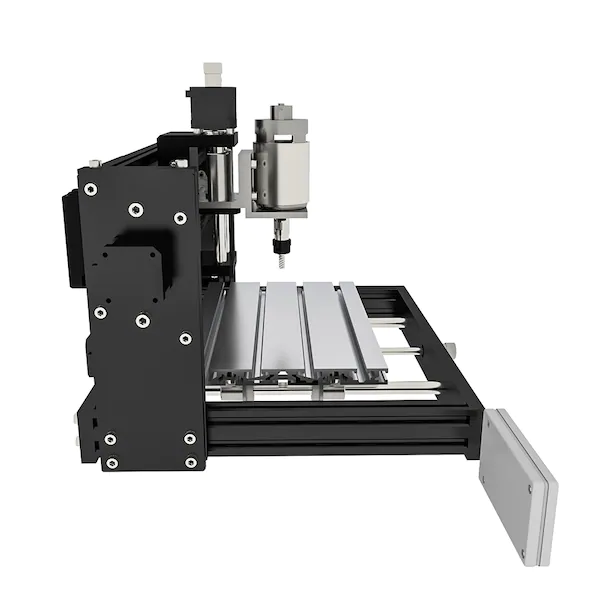 With the technically identical new revision, a major shortcoming has been eliminated: how do I place the laser cutter so that it cannot tip over or lie at an angle on the workpiece when it should be somewhat larger? With the now much better frame construction you get an equally larger engraving area of X300 x Y180 x Z50mm.
The design is simple: the Ortur Aufero is made of 4 aluminum profiles to be assembled in a rectangle with two stepper motors. The assembly takes 20 and 30 minutes.
Ortur Aufero CNC engraver supports WiFi remote control, 3.2 inch touch screen and USB connection. Different from the common button screen design on the market, the 3.2-inch touch screen design is more user-friendly and convenient. The Ortur Aufero requires a permanent connection to a computer via a USB port that will send the movement commands. These cheap laser engravers are not yet autonomous as 3D printers are now. The only buttons on the front panel allow the laser to be switched on and off.
The similarity with a laser printer for displacement is not accidental. The motherboard receives GCODES commands like in the 3D world except that here the movement will be done on two axes, X/Y like a plotter.
Safety level, the laser engraver is equipped with a gyroscope. It cuts the laser as soon as a movement is detected. The same if the USB link is lost.
In addition to never looking at the laser without adapted glasses, one must also be vigilant in evacuating the smoke and of course any potential fire start. Not all materials can be burned by laser. Read the different specialized sites or Wifi like this one. MDF type wood for example is not suitable because it contains a harmful resin. Neutral material is needed.
The ideal is to confine the engraver in a box and monitor via a small IP camera. For quality, the precision of the Ortur Aufero CNC Engraver allows to obtain 300dpi resolution which is excellent.