Tronsmart Element Force Plus SoundPulse™ 40W Bluetooth 5.0 Speaker
I do not think I've told you before, but I'm the kind who's listening to music since he wakes up and sleeps. Headphones, audio system, Bluetooth speakers, you'll find them all on my desk or drawer. That's how it is that lately, the office was a little loaded with portable speakers. Tronsmart Element Force+ is one of these speakers I have been using for almost a month, and I thought about making a short review, especially because a lot of people were interested in the newer Tronsmart T6 Plus.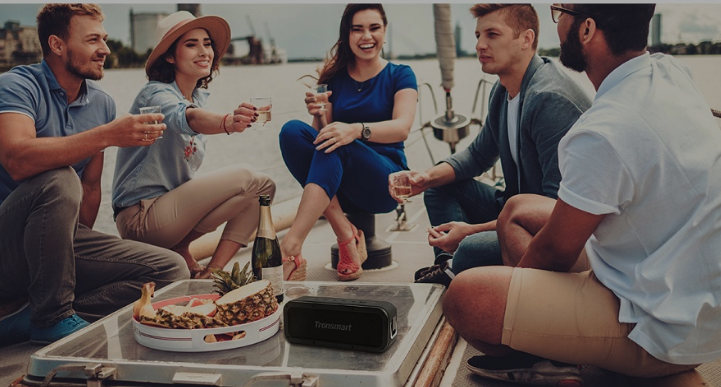 About Tronsmart I've been talking on the blog, you know it's a Chinese brand I recommend, because it has good quality products with good prices in the portfolio. The exception to the rule is neither Element Force +, a portable speaker that I bought from Geekbuying. I also give you a discount coupon that you can buy cheaper in this period.
Tronsmart Element Force + comes in a box similar to the one we receive on the T6 Plus, and inside we find the following accessories: USB Type-C charging cable, English user manual, 3.5mm jack cable at both ends (if you do not want to use the Bluetooth connection) and a string (to hang it).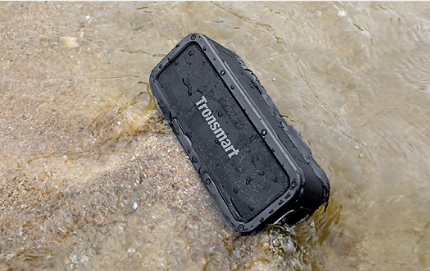 The speaker weighs 780 grams, has a solid construction and looks like a speaker that you can use outside without being careful to catch the rain or get rid of it. This sensation is amplified by the front bolts, which are deliberately left to be seen, to give a more "rugged" look.
It is completely wrapped in a soft rubber that gives a pleasant touch to the touch but quickly attracts dust and fingerprints. Instead, it protects it against shocks and water, because the speaker complies with the IPX7 standard. I washed it before I took pictures and can confirm that it still works.
At the top there are buttons that allow you to control it: a LED indicator, the call microphone, and the dedicated NFC connection area. I would have liked the buttons to have been illuminated, at least the on / off button, because they all had the same shape, they were hard to distinguish, and I often kept pressing the volume button and waited for the speaker to turn on. On the right is a small handle that allows the box to be pinched from the box.
On the back are the connectivity elements (the USB Type-C charging port, the MicroSD card reader and the Jack 3.5mm jack) hidden behind a rubber cover that protects them to keep water coming in, but also passive radiator.
Tronsmart Element Force + is a portable speaker with a maximum power of 40 watts. When I got it, I did not know exactly what that meant and what to expect. Once I was able to connect her to the phone and play the songs, I was impressed with its quality and power. The speaker sounds strong enough for an apartment room, it does not distort it to the maximum volume, and audio quality is generally good.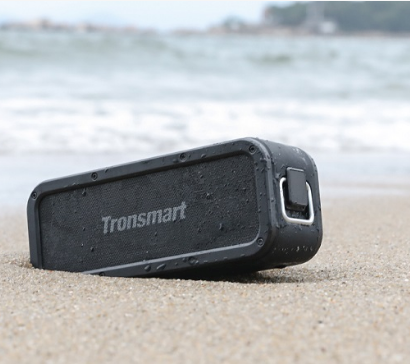 The bass is also present through the passive radiator on the back that makes the speaker vibrate quite loud – luck that it's made of that soft rubber and does not slip off the table. From my point of view, the bass is enough, and I do not think you can get anything stronger than a medium sized speaker.
Like the T6 Plus, it features 3 sound modes that you can select according to your preferences. You can select them using the EQ button on the top. There are ExtraBass modes, 3D mode and Standard mode. Of the 3, I really enjoyed the ExtraBass mode, which means "by default". The other 2 ways I did not like, so I just used it this way, which I would rather call Standard, even if the manufacturer calls it ExtraBass.
The speaker also has TWS function, which means it can be paired with another speaker (of the same kind) to be used as an audio system. I have tested this feature on T6 Plus and it works very well, I suspect that even if it works the same. I would have liked to connect them all, being the same brand, but unfortunately it is not possible. With 2 connected speakers, I think you can have a party. Even with one speaker, the maximum sound is enough for an ordinary room. As mentioned above, two more will beat neighbors in the pipe.
The speaker uses Bluetooth 5.0. Used in wireless mode, power consumption is quite low and the distance from which it can be controlled is higher compared to previous generations that used Bluetooth 4.2. In my case it worked smoothly from a distance of no more than 15 meters (no obstacles). It can also be connected via a cable jack or a MicroSD card.
In terms of autonomy, the Tronsmart Element + integrates a 6600 mAh capacity battery that promises up to 15 hours of continuous use. In fact, I have not been able to check if the manufacturer's autonomy is real, but I can honestly say you will listen to music until you get bored, and the battery will not be consumed unless you listen to the maximum. If it is used only at maximum volume, the autonomy decreases and you will get around 4 hours of use. However, it is good that it can be used even when it is loaded. A full charge, from 0-100%, takes about 3 hours.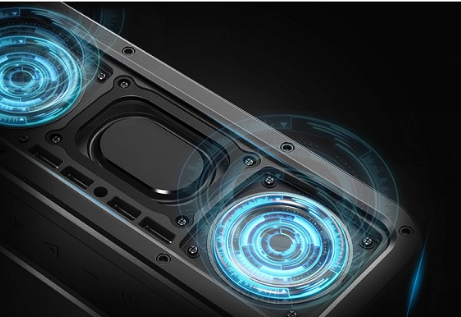 From my point of view, Element Force + has an excellent quality ratio, in this price segment I do not think you will find anything better. The bass is a strong one and the sound is enough even for a few people's party. At high volume does not distort (used in ExtraBass mode) and autonomy is more than enough for any user. I like that they chose the Type-C USB port for charging.
A plus is that it can also be used at the pool or outside. Plus it resists shocks, so it's perfect for an outdoor barbecue. The only downside is that the buttons are hard to differentiate, and you have to always watch where you get it.
It seems that Element Force + is no longer present in the Chinese store offer, but if you want something similar, you can buy Element Force. At first sight it seems almost identical. For this version there is a discount coupon if you buy it from Geekbuying. It is also available in the warehouse in Poland, delivered by courier in a few days, but without the protective cover.