Umidigi A9 Max Smartphone With 8GB RAM
The A9 Max model from Umidigi has only been officially announced recently on Their Facebook Page, and its lightweight version without the A9 Pro attribute is just coming to life. However, we must note that the phone offers almost the same equipment as the Pro variant. Compared to the competition, the Chinese manufacturer will have the upper hand mainly thanks to the latest version of the Android operating system.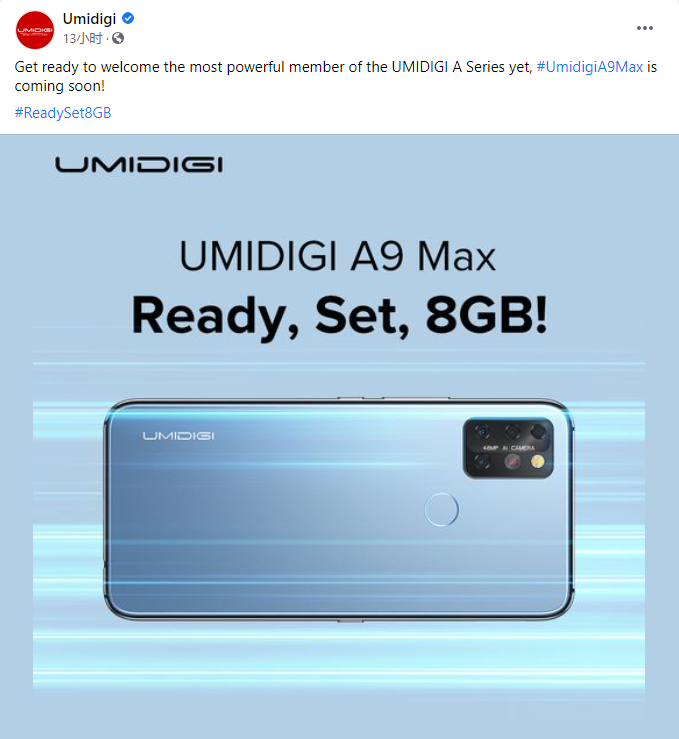 The processing quality is traditionally one of Umidigi's strengths. With the A9 Max, the Chinese manufacturer relies on glass that covers the front and back and is held together by a metal frame. That makes a lot in the pictures, especially in the really chic color forest green. As a further option, the smartphone is available in Sky Blue.
The display on the front is surrounded by narrow edges and interrupted at the top by a compact waterdrop notch. The corners are rounded, but it is not a "Waterdrop" display. As far as we know – this also applies to the back, by the way. There you will find the horizontally arranged Umidigi lettering, the concise and black camera element with four lenses and the round fingerprint sensor. The glass seems to reflect strongly, but that can also be deceiving and only appear that way in the pictures.
An old friend sets the pace in the Umidigi A9 Max: the Helio P60 from MediaTek. We have had very good experiences with this chip in the past. It has a solid energy efficiency and offers sufficient performance for the middle class. Fans of custom roms, on the other hand, don't get their money's worth – but that's not important for normal customers. To classify the performance of the chip, we have included a benchmark for you that compares the results of the CUBOT X30 with the competition.
The chip is supported by 8GB of RAM. For the user there is 128 GB of expandable UFS 2.1 storage. That makes a good impression! The 4,150 mAh battery, which the included power supply unit pumps with up to ten watts, provides enough energy.
The UMIDIGI A series is famous for its very high quality-price ratio in the entry-level segment. Now UMIDIGI A9 Max introduces the 48MP Sony main camera on smartphones for the first time at around $120. As we know, the 48MP Sony sensor is right on the more expensive smartphones.
With regard to connectivity, it has a USB-C port through which its 4150 mAh battery is charged. Plus, it features Bluetooth 4.2, dual-band AC WiFi, headphone jack and all popular navigation systems (GPS, Glonass, and Galileo). And as an operating system it uses pure Android 11 (without customization layer).