Yeelight YILAI YlXD04Yl 10W Simple Round LED Ceiling Light Mini for Home
Many times you do not get the ideal lamp for your favorite spaces, or illuminate too much, or too little, its design stands out too much or does not fit with your style or the theme of the place, sometimes you could even say that the light that many provide impair the view, but for all things there is always a solution and maybe in this article discover yours. Today we present you the new Yeelight YILAI YlXD04Yl LED Lamp, with contemporary style, practical size, classic white light of 5700K, which protects your sight, a relevant feature of all Yeelight lamps, such as the Xiaomi Yeelight Induction Ceiling Light, which also allows to turn any space into a cozy and perfectly illuminated environment.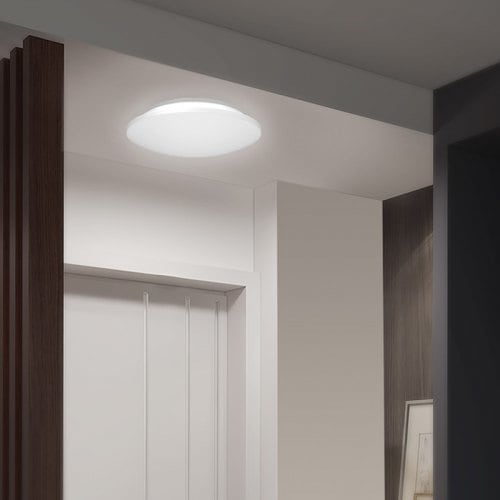 The Yeelight YILAI YlXD04Yl LED lampshade is made of PMMA material, one of the most widely used engineering plastics in the fields of lighting, cosmetics, optics and even in the world of medicine, among many more due to its high quality resistant acrylic content, likewise, the lamp is able to provide you with good transmission, a brightness of up to 650 lumens, and a uniform, translucent and brilliant light.
In addition, it uses a base plate of SPCC (microalloyed steel), a type of metal alloy that provides better mechanical properties and superior corrosion resistance than steel. In this order of ideas, LED grains are of high quality and super bright, contribute to energy saving and do not harm the environment.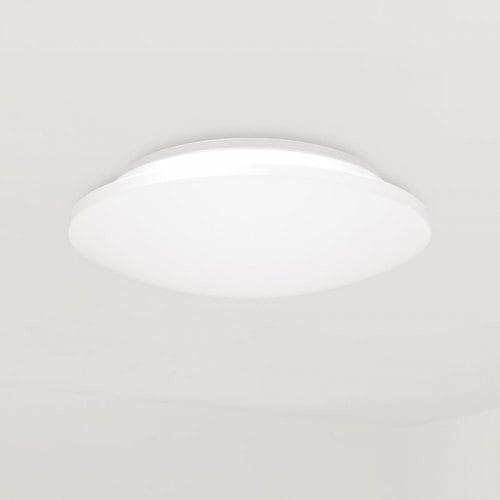 It has a sealed design of good performance with multiple layers to prevent the entry of mosquitoes and the problem of accumulation of them in the body of the lamp, therefore its cleaning is easier.
At first sight it has a simple appearance, smooth surface, making the small space is elegant. The LED ceiling lamp has a size of 26 centimeters long, 26 centimeters wide and 12 centimeters high (10.24 x 10.24 x 4.72 inches), and a weight of only 360 grams.
The light reflected by Yeelight YILAI YlXD04Yl LED Lamp is classic white, bright and comfortable, using a color temperature of 5700K. As explained in detail in the previous section, its design and construction allows the light to be uniform and bright, suitable for any style of decoration thanks to its lateral light emission structure.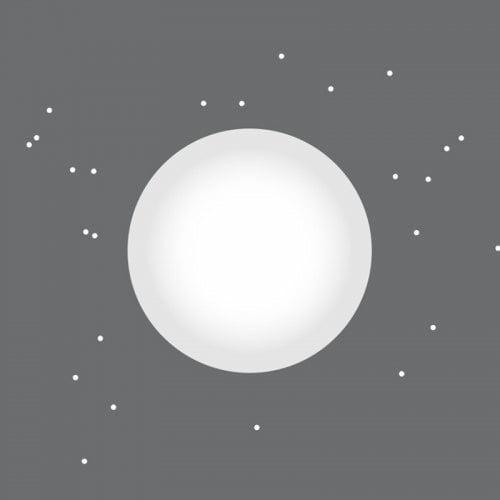 Of course, the Yeelight YILAI YlXD04Yl LED Lamp has different properties that go beyond just illuminating spaces, these lie in its structure and materials, which allow it to be anti-insects and anti-dust up to 88% effective.
Its contemporary style fits every space you want. However, it is recommended for use in small spaces. As long as the space does not exceed 10 square meters, you can visualize its maximum performance, these can be corridors, bedrooms, cafes, kitchens, living rooms or offices.
The voltages of Yeelight YILAI YlXD04Yl LED Lamp vary depending on the country in which it is located, the level of 110-120V is available in the United States, Canada, Brazil, Japan and Mexico and the level of 220-240V is available in Brazil, Australia, France, United Kingdom among many more countries presented below in the picture.