BMAX B1 MINI PC With Intel Celeron N3060 CPU and Windows 10 OS
Obviously, for BMAX, 2019 is a successful year. This Chinese technology company has launched three very popular laptops: BMAX Y11, Y13 and X14. These three products quickly gained a large market share with the advantage of cost-effectiveness and became a dark horse in the low-end notebook market. However, this company is obviously not only satisfied with this, they even put their hand into the MINI PC market, want to get a piece of it inside.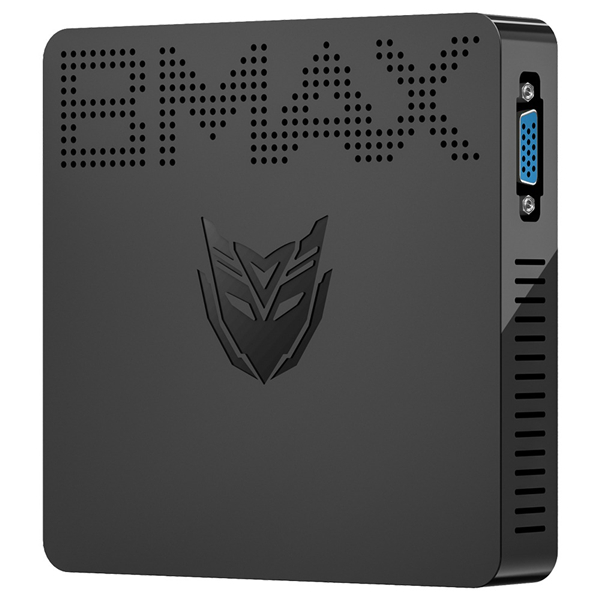 Desktop mini-PCs for businesses and enterprises are an interesting market in recent years – on the one hand, the expanded support for Windows 7 is coming to an end in early 2020, many companies are looking to buy new PCs; on the other hand, profitability is low, and competition between suppliers is fierce. To minimize competition, BMAX launched one of the industry's first MINI PC B1 for business – a desktop min-PC for offices, call centers, kiosks or digital signage.
The new BMAX B1 comes in a small black 12.00 x 12.00 x 3.20 cm case that includes a Intel Apollo N3060 CPU with a Intel HD graphics processor paired with 4GB of DDR3 memory, and 64GB eMMC.
The BMAX B1 supports Dual Band WiFi AC 2 × 2 MIMO wireless communication with internal antenna and Bluetooth 4.2. The ports include 4 x USB 3.0, gigabit network connector, audio jack, microSD card reader and triple video output with HDMI 2.0a, VGA and DisplayPort. The novelty has a new top design with cooling holes and mesh for dust protection. Compatible with the screwless VESA MINIX mount and has Windows 10 installed.