CHUWI CoreBox Pro is a new Metal mini PC with AMD RYZEN 5 3500U or Intel 10th i3-1005G1
The Chuwi CoreBox Pro is a solution with a strong air of MINI PC. The chassis is a solution that we have already come across at the manufacturer's several times. As for the processor, it is a solution launched in… 2015. We met it in the CHUWI CoreBox i5, as well as in the Beelink U57 launched the same month with 8GB of RAM and 128GB of storage sold a little cheaper.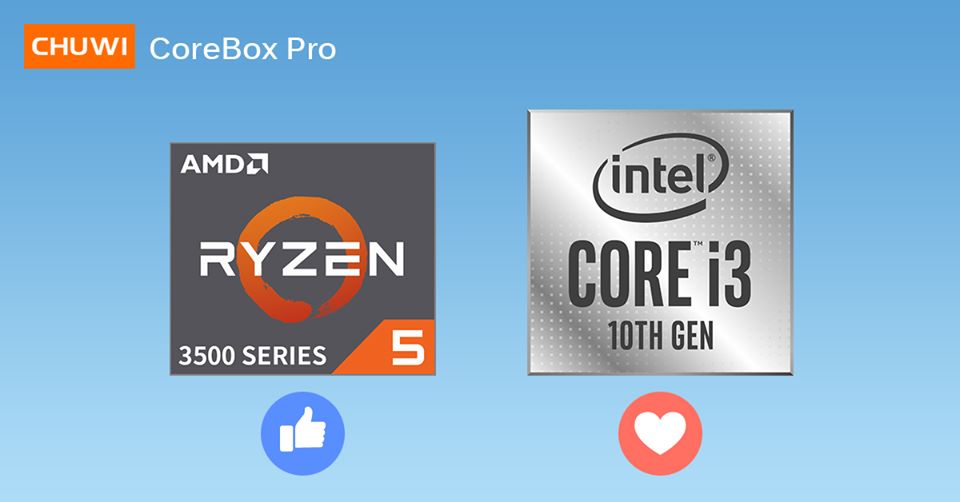 AMD Ryzen 3500U is AMD's latest mainstream notebook processor, based on the zen+ architecture, using 12nm process, using quad-core and eight threads, performance compared to the previous generation of Ryzen 2500u increased by about 10%, cpu performance is basically equivalent to the Intel Core i5 8250U. Integrated VEGA8 integrated graphics, the integrated graphics performance is far better than the i5-8250u, close to the MX150 low-power version.
This chip was used enough in the noname market 3 years ago to be integrated in Fanless MiniPCs at eGlobal and Hystou. Since then, we haven't heard much about it since. Its graphic circuit proposed quite a lot of muscles and allowed to play on the go in low definition on not so young titles.
In the Chuwi CoreBox Pro, the processor comes with 8GB of DDR3L RAM and 256GB of storage via an SSD in M.2 2280 SATA format. The 17.3 cm wide by 15.8 cm deep and 7.3 cm thick case also offers a 2.5″ slot to add secondary SATA 3.0 storage.
This package should make the Chuwi CoreBox Pro powerful enough for a wide range of uses, from office applications to image editing, surfing and all audio and video tools. It is clear that the embedded Iris 6100 circuitry is not enough to run recent 3D games and the MiniPC will have a hard time positioning itself in a "gaming" segment. On the other hand, it will be perfect to run older titles or to offer honourable performances in emulation. Note also that the chip is compatible with a lot of Hackintosh solutions up to Catalina. So we can hope to build a MacOS engine at the lowest cost…
For the rest, the Chuwi CoreBox Pro offers Wifi5 and Bluetooth 4.2 as well as an RJ45 Gigabit Ethernet port. The rest of the connectivity includes separate 3.5 mm headset and microphone jack ports, no less than four USB 3.0 ports and two HDMI 2.0 and two DisplayPort outputs. No USB Type-C ports, no card reader, too bad.
The front panel is particularly sober with a single start button and the chassis is quite nice with an air of a mini server rack. The Chuwi CoreBox Pro is built entirely out of metal. It can be placed flat or upright depending on the needs. The machine benefits from an active ventilation system that will push the heat from the processor to the back of the machine with a suction underneath and large openings on the sides.
I must admit that I like the format very much and the idea of making such a device quite quiet with a passive heatsink and a small Noctua fan well placed is quite tempting.