GPD Pocket2 2021ver – 7″ size UMPC is now powered up for 2021!
In recent years, UMPCs have grown to 8.4″ and 8.9″, and some of them, like WIN 3, are more like "portable gaming devices with Windows" than UMPCs. GPD Pocket 2 is one of the pioneers of "revival of UMPC by Chinese manufacturers". GPD Pocket 2 is one of the first 7″ UMPCs from China.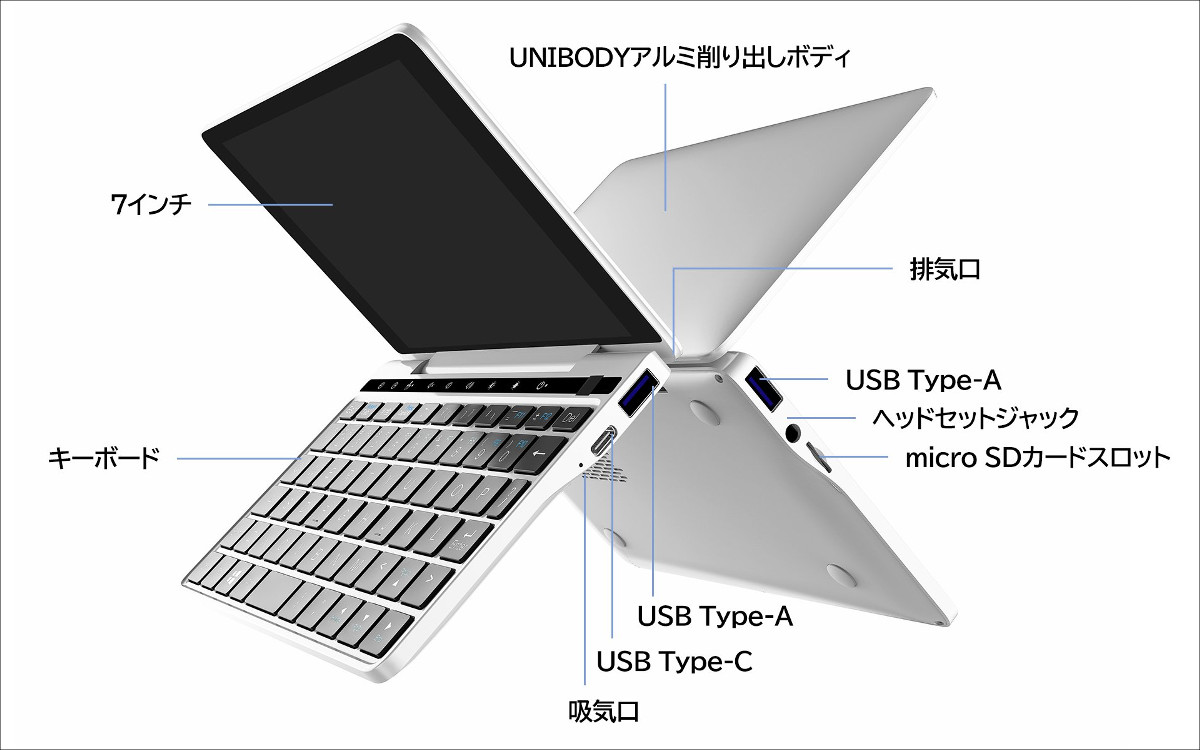 Here are the successive models of GPD Pocket:
GPD Pocket:Atom Z8750/8GB/128GB eMMC
GPD Pocket 2: Core m3-7Y30/8GB/128GB eMMC
GPD Pocket 2 AmberBlack: Celeron 3965Y/8GB/128GB eMMC
GPD Pocket 2S: Celeron 3965Y/8GB/256GB SSD
From left to right: CPU/RAM/Storage
There is a case that RAM capacity etc. are changed in the middle of the same model, but it is usually like this. The 2021ver we're looking at here has an 8th generation Core m3-8100Y CPU and 256GB SSD storage. The display has always been a 7-inch IPS LCD with 1,920 x 1,200 resolution.
By the way, this specification is almost same as ONE-NETBOOK OneMix 1S, isn't it? One is convertible 2 in 1, OneMix1S, and the other is clamshell notebook, GPD Pocket 2 2021ver.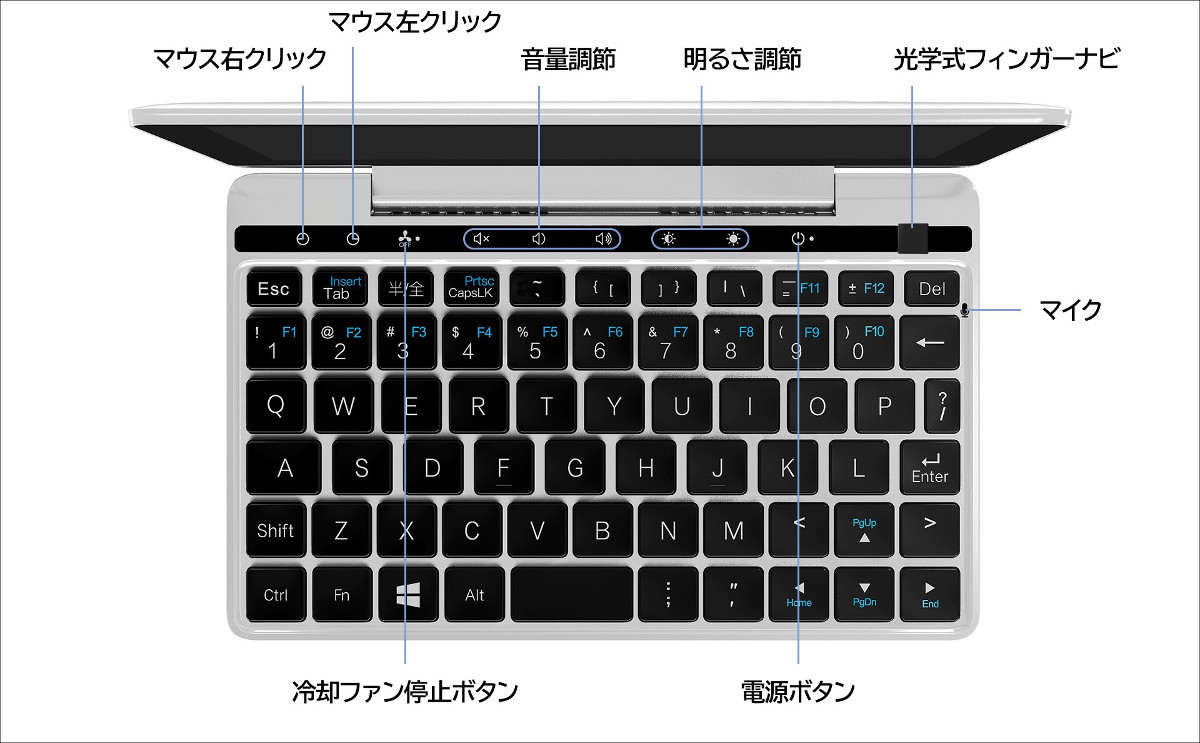 Whether it's GPD Pocket 2 or OneMix 1S, the chassis is made of aluminum and the quality is very high. GPD Pocket 2 2021ver has one USB Type-C port for video output and PD charging, and two USB type-A ports for connecting peripherals. In addition, as I will explain later, if you purchase the 2021ver now, you will receive many gifts, including a USB hub.
The keyboard layout is unique. The "finger navigation" instead of a mouse pad is placed on the upper right, and the left and right click buttons are placed on the upper left. This structure is completely different from the OneMix series, and is a part of GPD's claim to fame.
The key pitch is 16 to 17 mm, which is as narrow as you'd expect, but it's not so narrow that you can't get used to it. Incidentally, I'm not a fan of the key pitch of 7-inch UMPCs, but writer Ayu Kano says "I can type without any trouble," so it may be possible for some people to create documents crisply.
The GPD Pocket2 2021ver is now available at GPD Direct, an authorized GPD distributor, and is priced at 79,800 yen including tax as of August 11, 2012. In addition, this price includes:
GPD Pocket2 glass LCD protection film
GPD Pocket2 dedicated pouch
GPD Pocket2 keyboard sticker
LCD cleaner cloth with GPD logo
Stereo earphone
USB HUB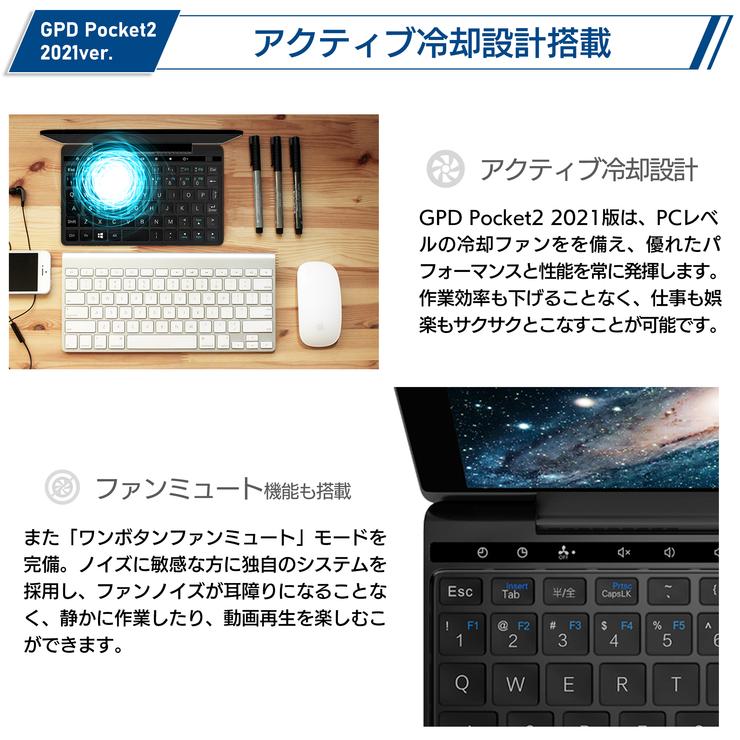 It is my personal impression, but I think that GPD is the one who made a revival of UMPC in Japanese market, and ONE-NETBOOK is the one who expanded its market share. Currently, OneMix1S and GPD Pocket 2 2021ver have almost the same specs, and the price is almost the same (OneMix1s costs 76,780 yen including tax, but considering the fact that GPD Pocket 2 2021ver has a special offer, we can consider the price to be at the same level). I think the question is how to evaluate whether it is a convertible 2 in 1 (OneMix) or a clamshell notebook (GPD).
Also, it can be said that the mainstream of UMPCs is currently shifting to the 8-inch range, and I personally think that the 8-inch range is easier to use. However, Ayu Kano, the writer of this article, insists that UMPCs should be up to 7 inches, so I can only say that it depends on the person…