iFlight Cidora SL5 Advanced 6S Freestyle 5 Inch FPV Racing Drone
Will the 5-inch supercharged racers with 6S batteries take over against the 4S? The trend seems to be in this direction, as for example with the Cidora SL5. This racer based on a carbon frame with a 21.5 cm diagonal of the motor motor has dimensions of 16.5 x 13.8 cm. It is based on an iFlight SucceX F7 TwinG flight controller, flashed with Betaflight and featuring an active OSD. It is equipped with an altimeter barometer to display the flight height and a Bluetooth module to make wireless adjustments, via the SpeedyBee application on smartphone. It also has a more traditional microUSB connector for connection to a Windows PC or Mac.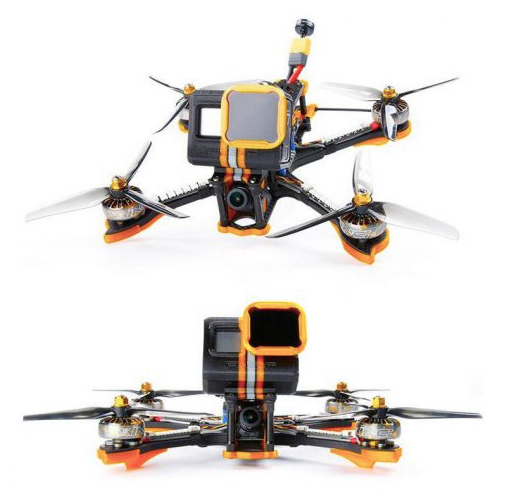 The engines are Xing Cameo 2306 to 1700KV for Nazgul 5140 propellers, and the propulsion is powered by a 50A DShot1200 ESC 4 in 1, enough to make the engines howl. The set is designed to support 6S batteries! The camera is a Caddx Ratel with a 2.1 mm lens and a 5.8 GHz transmitter compatible with 48 channels, capable of transmitting in 25 mW (the maximum allowed in France), 200 mW, 400 mW, 800 mW and even 1 W to go further (where allowed). It is possible to choose the device without a radio receiver to install yours, or to prefer a version pre-equipped with a FrSky R-XSR or XM+ receiver, or a TBS Crossfire Nano to go further.
LEDs are installed and controllable via Betaflight's OSD. The weight is 384.2 grams without battery and without camera holder. The price? The Cidora SL5 Advanced will be available from $269.99 at Banggood. Is it worth it? We won't know until we test it, but its characteristics are attractive! Equipped with a GoPro, it allows you to come back with superb images, taking a little distance from the Crossfire version and emitting (in video) at 1 Watt, with beautiful rework and a nice autonomy with the help of 6S batteries. I can't wait to get started! Note that there is a version for 4S batteries, less exciting….