LDARC DJ220/ DJ220-Digital PNP 5inch 4S Cinewhoop FPV Racing RC Drone
This newcomer to the LDARC range is a 21.9 cm motor-to-motor device designed for 5-inch propellers. The arms of its carbon X structure are 5 mm thick. The motors are brushless 2306 to 2500KV for three-bladed propellers 51499. To control them, LDARC chose the KKT30-F4D flight controller associated with the KKT30-E40A, a 40A BLheli_S ESC 4 in 1.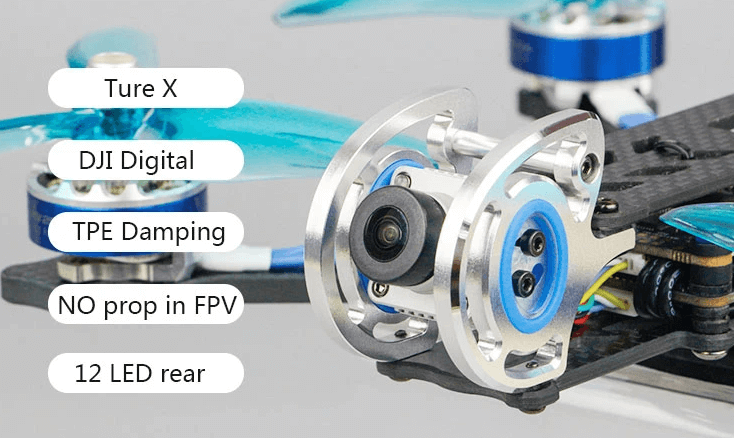 The first, DJ220, is intended to accommodate an FPV camera and an analog video transmitter, which you will have to add yourself. The second is the DJ220-Digital version, pre-equipped with the camera and DJI's Air Unit FPV module – the latter is connected to the flight controller with a simple cable. The DJ220-Digital is therefore compatible with DJI's Digital FPV System mask and its remote control – that is to say, ready to fly! You can however add your own radio receiver if you are not equipped with the DJI radio remote control. Antenna guides are provided for the DJI version with protections to prevent them from falling off in flight or after an impact.
LDARC ensures that the propellers do not appear in the field of the camera, and that the electronic parts are placed on shock absorbers to limit vibrations. A row of 12 LEDs on the back allows the DJ220 to be given a very Christmas tree or Jacky's Touch look. The price ? The DJ220 will be offered at $151.48 and the DJ220-Digital will be positioned at $301.48 at Banggood.