MINISFORUM EliteMini UM800 Mini PC
Because there are two models of Minisforum UM800. First the UM820 which is the third suite machine available under Core i5-8259U processor after the new Beelink SEI10 and GTI10 and the GMK NucBox2. But the brand also offers a UM850 with a Comet Lake Core i5-10210U chip in this new range.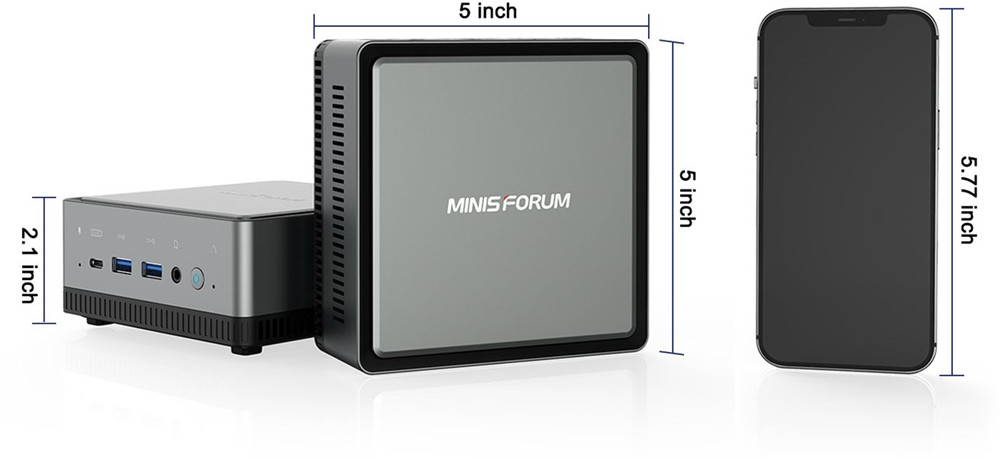 Four models of machines will be offered for purchase with two storage variations per processor. In each case, the machines will be offered with 16GB of DDR4 but with 256 or 512GB of NVMe PCIe SSD storage.
Minisforum U820 in 16/256 GB: $599

Minisforum U820 in 16/512 GB: $639

Minisforum U850 in 16/256 GB: $659

Minisforum U850 in 16/512 GB: $699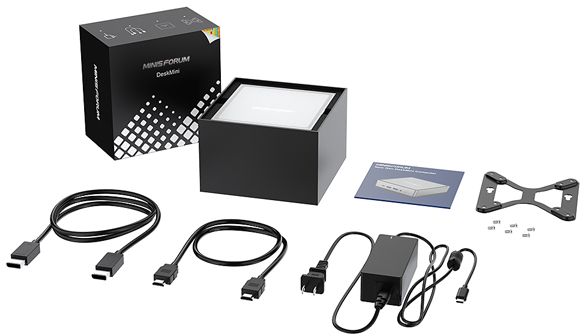 The machine is advertised as being 12.7 cm wide and deep and 5.31 cm thick. It offers a very nice connection with a front USB Type-C port with full functions. Two USB 3.1 Type-A ports and a stereo combo audio jack port.
On the back, there are two classic video outputs with an HDMI 2.0 and a DisplayPort. So these Minisforums will be able to drive three displays at the same time. The USB part is completed by two other USB 3.1 Type-A ports. Two Ethernet ports are available, one in Gigabit and the other in 2.5 Gb, each machine will be able to address two networks at the same time. The power supply will be provided by a USB Type-C port in 19 Volts.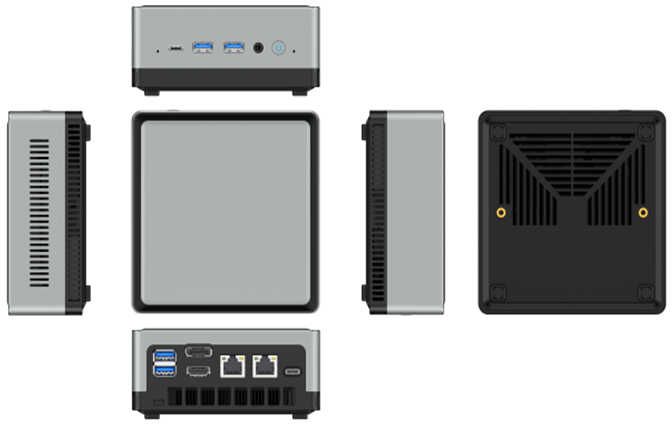 A Wifi6 network and Bluetooth 5.0 will also be available via a Wifi M.2 2230 card, probably an AX200 solution from Intel. All essential components will be removable: two dual-channel DDR4 slots will be accessible, and the NVMe PCIe SSD will be mounted on a standard M.2 2280. Small novelty compared to other machines of this type, the Minisforum UM800 announces the presence of two 2.5″ bays to extend storage in SATA 3.0. This small box will therefore be able to mount a fairly large set of storage units: a very fast NVME PCIe SSD for the system and a dual SATA 3.0 storage solution for data.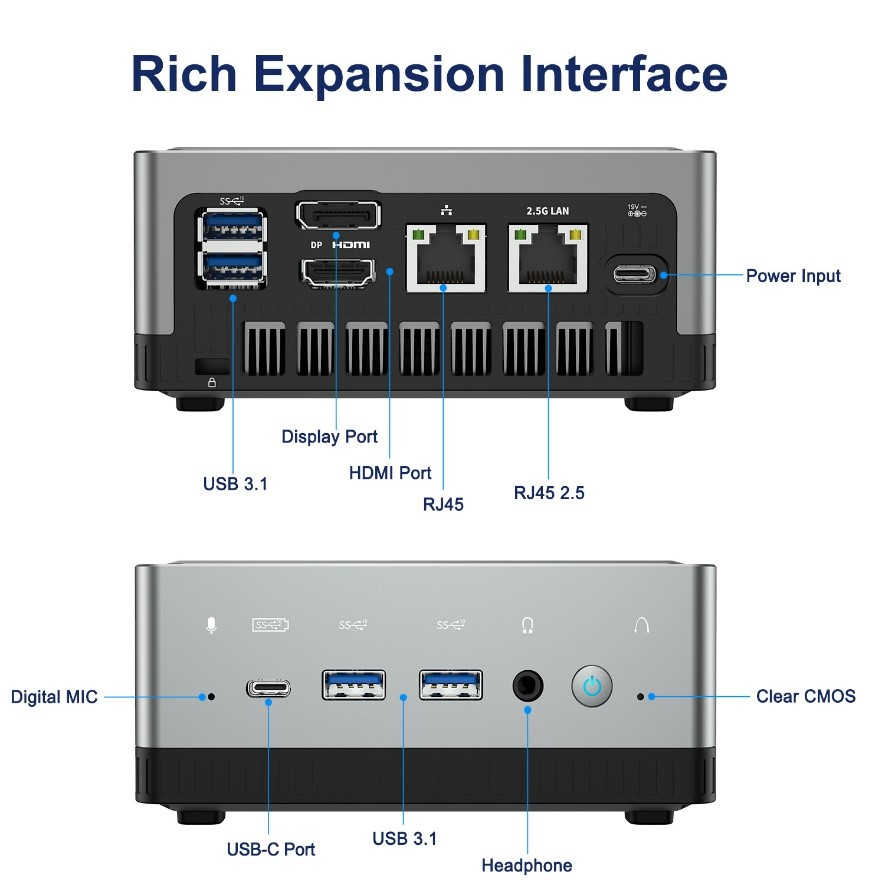 As usual with this product range, these components will be accessible directly via the top panel which can be detached with a simple press on the top of the cover. The machine is actively cooled thanks to a ventilation circuit that blows fresh air over fins where the heat from the processor is redirected through a conventional heat pipe system. The machine can be used flat, placed on a piece of furniture, or mounted in VESA on the back of a screen thanks to a kit supplied.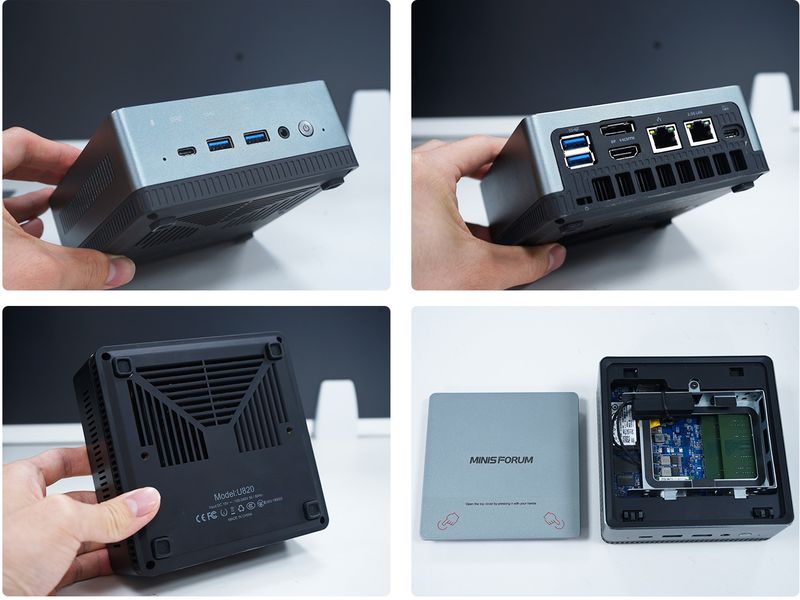 I really like the Minisforum solutions, their construction is so far irreproachable and the performances are excellent. The brand is well distributed by Banggood, which generally offers very interesting promotional codes on its models. The MinisForum UM300 under AMD Ryzen 3200 is very regularly promoted in the good plans of the site and it is an excellent product.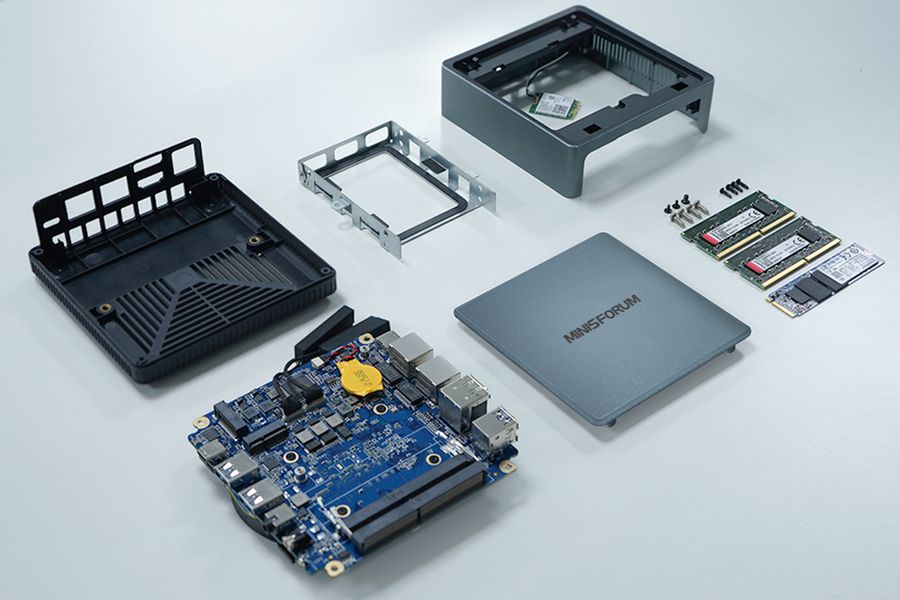 This upgrade to Intel is good news even if the price is obviously a bit more difficult to accept. I might have liked a barebone solution with the possibility to recycle components… To see how much the market will offer them in the future.