Teclast P20 Pro 10.1-inch Tablet PC with  Unisoc SC9863A CPU
The Chinese manufacturer Teclast follows a tight update cycle, virtually every month a new device is launched on the market. The latest offering is the P20 Pro, which – at least on paper – offers excellent value for money. With a high-quality metal housing, a large display and LTE support, the Chinese are doing a lot right with this device.
For the case Teclast has chosen metal, the brushed look gives the P20 Pro a high quality look. On the front is a LCD display with an aspect ratio of 16:10. The FHD+ resolution is sufficient for everything you can do with the device. If you want to watch movies or series with the tablet, you will also enjoy the stereo speakers. Headphones can be connected to the device via a jack socket.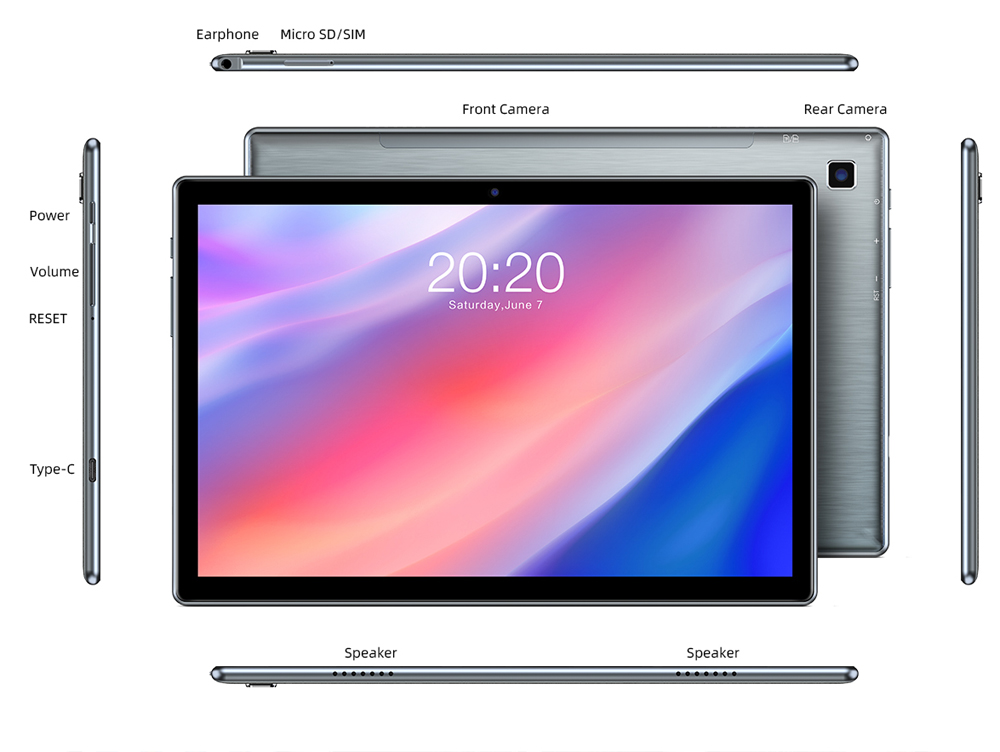 Within the Teclast P20 Pro tablet we find the popular SoC Unisoc SC9863A, an Octa Core manufactured in 28 nm with 4 ARM Cortex-A55 processors capable of reaching 1.8 GHz maximum speed + 4 that reach 1.2 GHz, while the GPU is a PowerVR IMG8322. An eight-core processor works under the hood, which can access 6GB of RAM. This should be sufficient for moderate multitasking. For photos, videos and other files, 128GB of memory are available. According to the company, Android 10 is installed on the device, but it is not yet known how much the manufacturer has adapted the surface of the operating system. Also, nothing is known about possible updates to upcoming Android versions. However, Android 10 should run safely and smoothly for at least some time.
The device can connect to the Internet via 4G-LTE and calls are also possible. Of course, WiFi and Bluetooth are also on board. Energy is supplied by a generous 6,000mAh battery, which is charged via USB-C with 10 Watt. According to Teclast a battery life of seven hours is possible when streaming videos. You shouldn't expect too much from the cameras, 5MP on the back and 2MP on the front are sufficient for video telephony and occasional document scans, but not more.
At a price of about $179.99, it is difficult to find a tablet that has similar features to the P20HD. Strong competition comes from Amazon: The Fire HD 10 offers good performance for a similar price and is easier to get in western markets. However, you have to do without a metal case here. The newer, but smaller Fire HD 8 and its plus variant are also interesting options in this price range.
The Alldocube iPlay 20 Pro was released just a few months ago and is technically better equipped than the P20 Pro. But it also costs a little more. Those who are willing to pay a little more can also take a look at devices like the Lenovo Tab M10 FHD Plus or the Galaxy Tab A 8.4. If you prefer to have iPadOS on your tablet instead of Android, the iPad 7 is a good choice.