Xiaomi Mi A3 Pro 4G Phablet
Are you waiting for the Xiaomi Mi A3 Pro because the basic Mi A3 disappointed you? Don't lose hope! There was a lead suggesting that Xiaomi Mi A3 Pro could actually be created. It is definitely worth waiting for him.
Presented a few days ago, Xiaomi Mi A3 will see its Polish premiere tomorrow. A lot of maniacs were more or less disappointed with this model, because it was based on the weaker Xiaomi Mi CC9e, not the better Xiaomi Mi CC9. Perhaps there is still hope and soon we will meet Xiaomi Mi A3 Pro, or at least this is what one of the manufacturers of accessories suggests.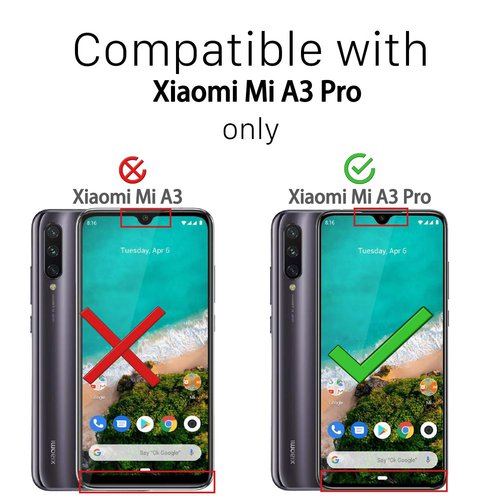 Xiaomi Mi A3 Pro will be created? On the Spanish Amazon there is an offer on the case for the officially unknown smartphone Xiaomi Mi A3 Pro. What's interesting, its manufacturer clearly declares that it fits only the Pro version, and not the basic Mi A3:
The image above highlights two important differences between Xiaomi Mi A3 and Xiaomi Mi A3 Pro – the shape of the screen incision and the width of the chin. This is exactly what makes Mi CC9e different from Mi CC9, and this is a clue that suggests that Xiaomi can indeed prepare another smartphone from the Android One family.
Of course, this doesn't have to prove anything, as the source of this information is in no way related to Xiaomi, so something could have been twisted. Nevertheless, there is still hope that such a smartphone as Xiaomi Mi A3 Pro will really come into being.
If Xiaomi Mi A3 is Xiaomi Mi CC9e, then Xiaomi Mi A3 Pro will be like Xiaomi Mi CC9. In such a system it would be a really nice medium from a higher segment than its cheaper equivalent. What would change for the better? Mostly three things, but for many maniacs it could be essential:
Full HD+ instead of HD+,
Snapdragon 710 instead of 665,
NFC on board.