YUME S10 Plus 21Ah 48V 1000W Folding Electric Scooter
Facing the increasingly busy and congested traffic situation, people start to choose a variety of transport modes to travel. Electric scooter has become a choice for more and more people, it is not only environmentally friendly and can save energy, more importantly, the use of Electric scooters can save time when traveling short distances and can be used to navigate through the streets to avoid traffic jams. Therefore, electric scooters are more popular among young people because they are relatively light and portable, easy to fold and store, and more suitable for the city. Short trips. And YUME, a leading brand in this industry, is doing a great job with electric scooters.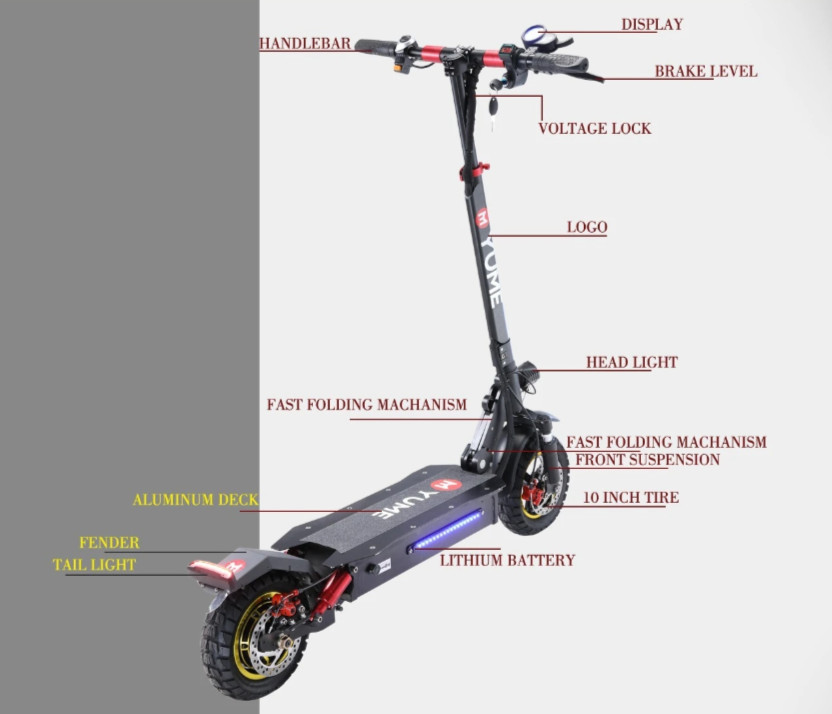 Today, I recommend a new travel tool to my friends. It is YUME S10 Plus. Its size is 116*63*125 cm, the weight of the whole vehicle is 27kg, and the motor parameter is 1000W. Its exterior design is simple and beautiful, with a metallic bright black and a red logo, which is bright and cool. Its main part is made of aluminum alloy, which is solid and durable and will never deform. It is a little heavier than similar scooters on the market, but it is also easy to carry.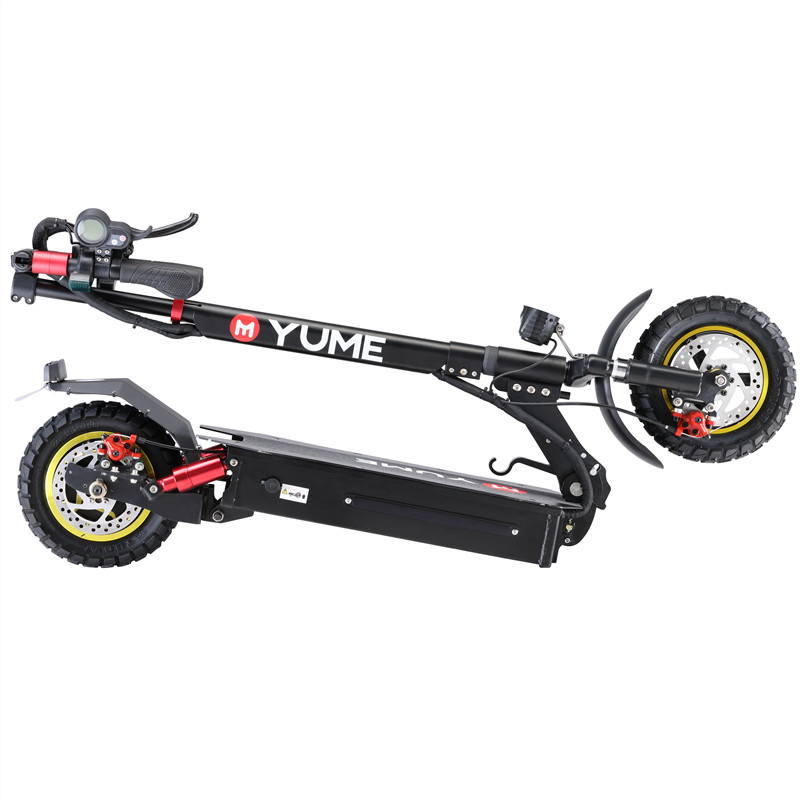 The red button in the middle is the switch that controls the front LED glare, up to 5 watts of high efficiency LED array, the light when on The YUME S10 Plus electric scooter is equipped with the following features Two sets of brakes, the emergency brake and the main brake. The main brake is set above the rear wheel and brakes by pedal friction, the same as on other scooters. The highlight is the black button on the left side, the emergency brake system. The two sets of brakes work together to achieve double the deceleration G-value and are very responsive. The red button on the right is the power system, i.e. the throttle system, which is powered to start, and requires human power to glide forward a step distance, then press and hold the The throttle button will give power to move forward, and this scooter has a top speed of 50km/h and a top mileage of 65km, easy to handle short trips.
Battery charging interface is protected by a layer of insulated rubber plugs, the fastest charging time is 5 hours, fast and convenient, 1000W efficient motor, developed by a dedicated design team, conversion efficiency of up to 90%, surging power, strong range, but also supports no power glide, like a normal scooter to use, to avoid the embarrassment of no power can not be exercised.