Redmi K40 Pro could be a flagship smartphone with IP68-rated dust and water
Do you need IP68 rated dust and water resistance? On the evening of April 11, Xiaomi Group China president and Redmi brand general manager Lu Weibing said that the Redmi K30 Pro supports IP53 level of life splash-proof, I do not think IP68 is needed.
Lu Weibing further said, if people like IP68, we will consider adding future products. A fan message, Lu Wei Bing this is hinting that the Redmi K40 Pro may support IP68 rated dust and water resistance.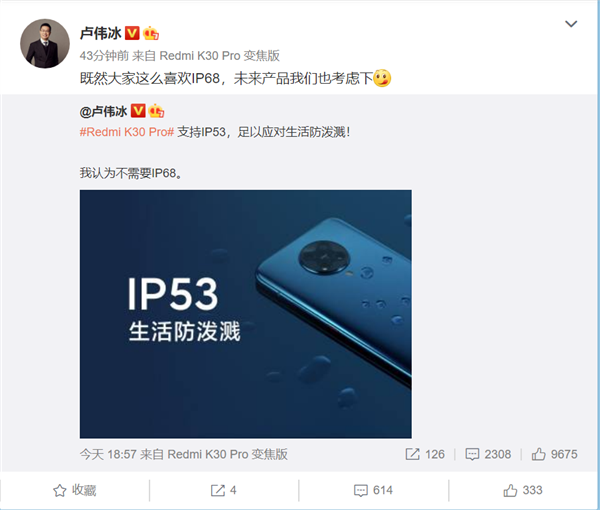 Currently on the high-end flagship, there are already quite a few models that support IP68-level dust and water resistance, like the Huawei P40 Pro, Galaxy S20 Ultra, iPhone 11 Pro Max, OPPO Find X2 Pro, Google Pixel 4 XL, Sony Xperia 1 and many more.
The biggest advantage of IP68 protection is that it effectively prevents accidental falls into the water that can lead to equipment failure, and considering that this feature is only supported on high-end flagships, the one that supports IP68-rated dust and water resistance must be Redmi's high-end flagship, so it's possible that the K40 Pro will include this feature.
With the independence of the Redmi brand, starting with the K20 Pro Redmi has also launched its own high-end flagship, some of the flagship features have already appeared on the Redmi K series, such as dual OIS optical anti-shake, Redmi K30 Pro zoom version is already supported.
Future like IP68-rated dust and water resistance is also expected on the Redmi flagship, sooner than later on the next generation Redmi K40 Pro, we'll see what happens.
Sources say the Redmi K40 will get an updated design and a revised aspect ratio. The bezels of the screen will be significantly smaller, but according to sources, the front camera will be cut into the screen. Recall that the Redmi K30 Pro front camera is sliding.
The screen should have a resolution of 1080p and an image refresh rate of 90 Hz. The back panel will also be covered with protective glass and we will have a quad-camera with an image sensor with 64, 12, 5 and 8 megapixel resolutions.
The smartphone will be built on the flagship single-chip Snapdragon 865 system, complemented by an X55 modem. As for RAM, the base version will get 8GB of RAM and 128GB of flash memory. It will also be available to buyers in 12 GB of RAM and 256 GB of flash memory.
The Redmi K40 will feature an under-screen fingerprint scanner, NFC module, USB-C connector and a 5000mAh battery with 65W fast charging technology.